News and events
£20,000 Fundraising appeal launched 16 January 2014
Our Crowdfunder campaign is now live at www.crowdfunder.co.uk/sustainable-shetland
Sunday teas, Aith Hall, Sunday 28 April
Come along and help raise some cash for our ongoing Judicial Review. Sunday 28 April from 2-5pm at the Eid Hall.
Judicial review resumes
Judicial Review of planning consent for the Viking Windfarm resumes in the Court of Session, Edinburgh, 30 April 2013.
March and rally
19/2/2011. Whatever your own reason for opposing the Viking Energy windfarm, this could be your last chance to make your voice heard before the Scottish Energy minister makes his decision on whether or not he gives the scheme planning permission, or order a Local Public Inquiry. This is a day for everyone. This is your day. Find out more about march and Rally to save Shetland's environment and stop Viking Energy.
SIC meet to decide on converter station outline planning application.
Wed. 8 December 2010. 2pm. Town Hall. If you can make it, please come along. The presence of a large number of people at these meetings will help to show the strength of feelings against the Viking Energy Wind Farm.
Deadline for notice to speak at SIC Viking Energy meeting
Thursday 9 December. 4pm. If you have already submitted an objection to either the original Viking Energy planning application, or the addendum, and you want to speak at the SIC meeting where councillors will decide on their response to the Energy Consents unit, you need to tell the planning department by 4 pm. Email or phone by 4pm on Thursday 9 December. Infrastructure@sic.shetland.gov.uk, or phone 01595 744800.
SIC decide on Viking Energy
Tuesday 14 December 10am. Town Hall. Full council meet to discuss Viking Energy and decide on their response to the Energy Consents Unit (the planning authority for the windfarm). The SIC has said that anyone who responded to the planning application can speak at this meeting, but you need to have told them in advance (see above). If you don't want to speak, please come along anyway. It is our councillors making a decision on behalf of us, and they should be representing the majority views of this community.
Viking Energy encourages people to use automatic computer generated support letter
12/10/10 Sustainable Shetland has learnt that Viking Energy are using a computer program on their web site to create windfarm support letters which look like they are unique letters, see the automatic letters here..
Sustainable Shetland lodge objection to Viking Energy Wind Farm
27/7/09. Sustainable Shetland lodge formal planning objection. Main objection here. Landscape objection here.
Reply to Richard Gibson letter "Debate misses point"
23/7/09 Letter and Sustainable Shetland reply can be seen here. Original letter also available at Shetland news.
Reply to Karen Emslie letter on planning deadlines and Shetland Charitable Trust.
22/7/09. Full letter and our response on Shetland News here.
Petition recount
After further checking and a painstaking week on a database the final petition totals weigh in at a healthy 3474 signatures. Full press release here.
Petition presentation
Wednesday 1 July. 9:30 am outside Lerwick Town Hall. Sustainable Shetland will present a petition with over 3600 signatures to Shetland Islands Council convener Sandy Cluness.
The petition calls on Shetland councillors not to support any large scale wind farm planning application.
Friends, supporters and Sustainable Shetland members are all very welcome to lend their support on Wednesday morning.
The petition, with 3605 authenticated signatures, is to remind Shetland councillors of their responsibility to represent their constituents, and to give an indication of the strength of opposition in Shetland at attempts to impose the largest wind farm in Europe on people living here. Over 95% of signatures on the petition come from Shetland. The petition was conducted by volunteers, at minimal expense, in the face of strong opposition from a wind farm developer using public money to promote their project.
By way of comparison, the largest consultation exercise ever undertaken by Shetland Islands Council (SIC), "Blueprint for education" resulted in 1286 returns. This survey was distributed to every household in Shetland, with consultation events in every school, and with considerable staff time and expense. The SIC considered this a very high return rate. The Sustainable Shetland petition to councillors gathered nearly three times the response as the SIC survey.
Sustainable Shetland reminds people that if they object to the Viking Energy Wind Farm planning application, they should make a formal objection to the planning authority, the Scottish Government Energy Consents Unit. See how to register your objection.
Sustainable Shetland meets Viking Energy
BBC Radio Shetland. Broadcast Tuesday 16 June 2009. Speakeasy Programme. 2 hours. Broadcast. Listen again (this link may not last for ever, so be quick!). Billy Fox and Kevin Learmonth in programme with Viking Energy Limited directors Bill Manson and Allan Wishart.
Hosted by Tom Morton. Features contribution from Orkney and Shetland MP Alaster Carmichael and Shetland MSP Tavish Scott.
Some great quotes from Viking Energy:
Question on why one part of Environmental Impact Assessment says 1,500,000 cubic metres peat removed, another sections claims "just" 800,000 m3 removed. Viking Energy Chairman says "in a document of this size there's bound to be one or two mistypes"
On who set up Viking Energy Limited, a central claim of community nature of project. "Shetland Islands Council set it up" says Viking Energy director. Official Company House documents say otherwise, that 4 private individuals did, says Sustainable Shetland. Allan Wishart backtracks and says "does it really matter who set it up".
Alistair Carmichael MP, speaking on perceived conflict of interests and lack of representation from councillors "The normal mechanisms for resolving the issues don't seem to be working properly".
Sustainable Shetland AGM
All current and new members are invited to attend our first Annual General Meeting.
Tuesday 9 June
Whiteness and Weisdale Hall
7:30pm
Short business section to elect office bearers, committee, financial report. Followed by discussion on recent events, current strategy and ideas for the future.
All current members should have received a household mailing with agenda and short update. New members are very welcome on the night - membership forms will be available. See you Tuesday!
Previous events
Sustainable Shetland - Second Open Meeting
Around 90 people packed into Tingwall hall on 5th June to hear a variety of speakers from Sustainable Shetland highlight their opposition to the Viking Energy windfarm project.
A feature of these open meetings is the large numbers of people attending from the immediate community. The majority of people attending this second meeting had not been at the Bixter meeting
Many people spoke from the floor stated that they had initially been supportive of the Viking project, but as the facts and reality of the proposals emerged, had realised that the project must be opposed.
Out of the 90 plus people who attended, and opposed the Viking Energy project, about half dozen or so people did support the project, although it must be noted that they were mostly connected to Viking Energy itself.
A full report, including copied of presentations made, may be available in the future if we have time to get round to it!
Sustainable Shetland - First Open Meeting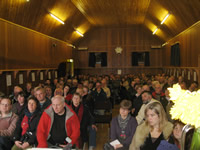 Over 150 people attended the first open meeting of Sustainable Shetland in Bixter hall on Wednesday 26 March 2008. The hall was full to capacity, with an additional side room having to be used to accommodate the overwhelming number of people who came to show their opposition to the Viking Energy wind farm plans (plus councilor Jonathan Wills who appears to support the plan, albeit on a smaller scale than the developers envisage).