Planning process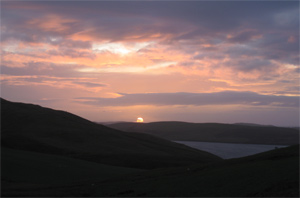 The planning application for wind farm is made to the Energy Consents Unit, part of the Scottish government. The Energy Consents Unit will collect and collate public and statutory responses, and make a recommendation to the Energy minister, Fergus Ewing. The minister can either accept, reject or open a local public enquiry. Shetland Islands Council (SIC), is not the planning authority, but is a statutory consultee. An objection from the SIC would automatically trigger a local public enquiry.
Shetland Islands Council will hold a special meeting on Tuesday 14 December to discuss their response to the Viking Energy planning application and addendum. All councillors are involved directly with windfarm partner, either as Trustees of Shetland Charitable Trust or employees of Viking Energy. They will be discussing their own application...
Anyone who submitted a formal objection to the Viking Energy project - either to the SIC planning service, or direct to the Energy Consents unit - can ask to speak at this meeting.
The more people who attend this meeting the better
Viking addendum objections
30/11/10. Government agency Scottish Natural Heritage (SNH) upheld their initial objection, and added a formal objection the addendum. SNH addendum objection.
19/11/10. RSPB maintain Viking Energy objection. Annex 1 objection. Annex 2 objection. RSPB cover letter.
18/11/10 Shetland Amenity Trust submit Viking Energy objection. SAT Objection.
1/11/10. SEPA have withdrawn their formal objection, but make a number of specific conditions for consent. They also restate "SEPA considers that, even if best practice is followed and mitigation employed, the proposal for a windfarm development of this scale in this peatland location is likely to have a negative impact on the environment. SEPA response."
Remember to make your voice heard
Use our download and print objection form. It is now too late for postal objections. If you want to object, send it as an email, either just as text in the email, or as an attachment. Put Viking Energy in the subject line. Put your full name and address in the email.


Or send your own email or letter:
Email

Post

Energy Consents and Deployment Unit
Scottish Government
4rd Floor
5 Atlantic Quay
150 Broomielaw
Glasgow
G2 8LU

If you want the objection form as basic text, you can use this Word version.
When you send your objection, remember to include:
Your name
Your address
Development is "Viking Energy windfarm"
Your personal reasons for objecting, a couple of lines is ok!
In the meantime, here are the Energy Consents Unit (ECU) details for Viking Energy - you will see it hasn't been updated in a while. ECU objection page is here.
The Energy Consents Unit have made it clear to Sustainable Shetland that they will not have an e-objection form available for this planning application. We will have our own form here in the next couple of days.
What if I sent a formal objection before?
If you have previously sent an objection to the ECU in Glasgow, then you can write or email to say:
My original objection still stands; the amendments have not alleviated any of my principal concerns.
If you didn't object before, now's your chance.
Only when the Viking Energy wind farm is put permanently out of harms way, can our community truly come together again, and we can all work together for a more sustainable Shetland, not just on electricity supply, but also transport, housing, food and economy.
In total there were 2544 responses to the 2009 planning application. 2026 opposing the wind farm, and just 518 in support. The Energy Consents and Development Unit is the planning authority for large windfarms.
There are also other planning applications in progress connected with the wind farm.
Converter station at Kergord
This is an outline planning application to build a converter station in Upper Kergord in the Weisdale valley. The SIC is planning authority, but have so far deferred any decision on the grounds of carbon-payback figures.
We have objected to this application because it is part of the Viking Energy Wind farm, and all planning board members are also Shetland Charitable Trust Trustees - majority shareholders in Viking Energy Ltd. Sustainable Shetland converter station objection is here.
Test masts planning permission
Planning permission for met. masts expired in March 2008. However some masts (those which hadn't blown down) were still standing in October 2009. Viking Energy had also breached a number of planning conditions relating to these masts. A new planning application for 5 new masts was submitted in November 2009, later amended to 3 masts. Permission was granted for 3 masts on the understanding no work would take place in the bird breeding season. Work began anyway - right in the middle of the bird breeding season. Agreed access routes and exclusion areas were also breached. As part of the infrastructure of the Viking Energy wind farm, Sustainable Shetland objected to this application, and asked that councillors themselves consider the planning application, rather than just delegate it to the officials who didn't enforce the planning application first time around. Our masts objection is here.