Live consultations
Running concurrent with the Vikign Energy main planning application, Shetladn Islands Council is also conducting "consultation" on finalising their own planning policy for windfarms over 20mW.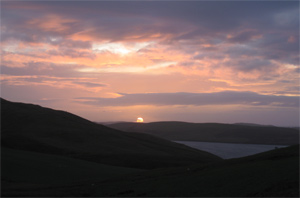 The closing date for this consultation is the same as Viking Energy, 19 November 2010. Clearly the policy has been written to suit Viking Energy, and the timing is more than a coincidence. At the Planning Board meeting which considered the draft policy, the item was completed in less than 3 minutes. Two questions were asked by councillors as to whether 6 weeks was sufficient consultation. No answer was received. The meeting was cut short when Cllr. Garry Robinson noticed Cllr. Laura Baisley was getting ready to leave (and would have left the meeting inquorate), so he hasitly moved to accept the draft policy to be put out for "community consultation".
See SIC current planning consultations.

Draft interim windfarm policy 2010 consultation - appendix A

Draft interim windfarm policy 2010 consultation - appendix B

Draft interim windfarm policy 2010 consultation - background paper from 2009
SIC public planning consultation update 20/3/2010
After many requests, the SIC has made the full transcripts of the planning consultation meetings held in September and October 2009. The original purpose of these transcripts was to accompany the SIC's submission to the Energy Consents Unit. The documents were only sent on 10/4/2010, more than 6 months after the meetings took place!
The community meeting wind farm transcripts here:
These four meetings were supposed to reflect the views of all of Shetland. The views expressed were overwhelmingly opposed to the Viking Energy planning application (about 75%).
Prior to these events, Sustainable Shetland attended a meeting with SIC officials and councillors planning the meetings. We appreciated being invited, but were unsuccessful in arguing that more locations should be included in the consultation.
We said that four events did not give enough people in Shetland the chance to contribute to the debate. Instead, the SIC claimed these four meetings would be sufficient. We argued then, and say so again; this windfarm is an issue for all people, in all parts of Shetland.
Viking Energy wind farm
The official closing date for responses was 28 July 2009. After this deadline, Viking Energy announced that they may be bringing out additional information. If this additional information appears, an additional 28 days consultation will begin.
This application is currently in limbo, the official deadline passed in July 2009 for the public, and October 2009 for statutory consultees.
If Viking Energy issue additional information, and the Energy Consents Unit considers is significant enough to class as an amendment to the application, then another 28 days consultation will begin. At the current time no addendum, and no additional information has been published. This means the current application is the only offer on the table. The application has not been withdrawn.
All statutory consultees who replied objected to the application on a number of grounds. Thousands of individuals also objected. Some of the organisations objecting were:
To date, 3/2/10, there have been 2544 responses to the Energy Consents Unit. 2026 opposing the wind farm, and just 518 in support.
There are also other planning applications in progress connected with the wind farm.
Converter station at Kergord
This is an outline planning permission to build a converter station in Upper Kergord in the Weisdale valley. The SIC is planning authority, but they have yet to consider the application even although it was made on 31/7/09.
We have objected to this application because it is part of the Viking Energy Wind farm. Sustainable Shetland converter station objection is here.
Test masts planning permission
Planning permission for test weather masts expired in March 2008. However some masts (those which hadn't blown down) were still standing in October 2009. Viking Energy had also breached a number of planning conditions relating to this masts. A new planning application for 5 new masts was submitted in November 2009. As part of the infrastructure of the Viking Energy wind farm, Sustainable Shetland objected to this application, and asked that councillors themselves consider the planning application, rather than just delegate it to the officials who didn't enforce the planning application first time around. The deadline for comments for this planning application was 25/12/09. Our masts objection is here.